This is the story of my first tech startup, which was so long ago, there wasn't a term for tech startups yet. I didn't really have much of a clue what I was doing back in 1997, however I knew wanted to gamble on something I thought may get traction.
Let me set the scene. In June 1997, the domain name space in Tonga, ending in .to, opened for registrations. There were approximately 500,000 domain names in the world at the time, mostly in the .com and .net space, and at US$100 each, they weren't such a cheap commodity as they are now.
(There are around 334 million domain names registered now, according to name.com).
The day after their launch, I forked out US$100 to register the domain name, bounce.to.
The cost of domain names at the time, such as .com and .net were US$100 per year, and it was a laborious exercise to register one.
Less than three months later, on 1st September 1997, I launched my first tech startup; a free URL redirection service.
Six months later, I earned the infamous 10x, and sold the business to a US company that already had a suite of .to domains they were using for URL redirection, which subsequently sold a few months later to Internet giant, Yahoo!.
This is the story of what happened.
The first week I spent trying to figure out what to do with this newly acquired domain. The simplest model seemed to be set up a redirection service, and sell some ads as interstitial pages, which would redirect after five seconds.
There were a few services out there, banner networks, which I could jus insert the code, and get paid per thousand impressions.
I got together with a friend, who was a master at Perl (yep, it was that long ago), and we got to working out what needed doing. We ended up with a simple flat file database, and a Perl script which found the correct URL from a list and redirected the browser.
Whilst he was working on building this, at a great hourly rate since we were mates (thanks Richard!), I got to designing the screens, writing the copy and researching which banner networks paid well.
On top of this, and my full time freelancing work at the time, I also started finding any relevant journalists email addresses I could find, and putting them in a spreadsheet. This was way before all these great services which make this task much easier nowadays.
I also created a list of usenet groups (a precursor to email mailing lists or discussion forums) that may have participants that would find this service useful.
About six weeks later, over beer and pizza, I quietly launched the service, and then asked a dozen or so friends to try it out.
Ready to see it, in all it's glory? I cringe sharing this; remember it was 20 years ago, please don't judge me too hard.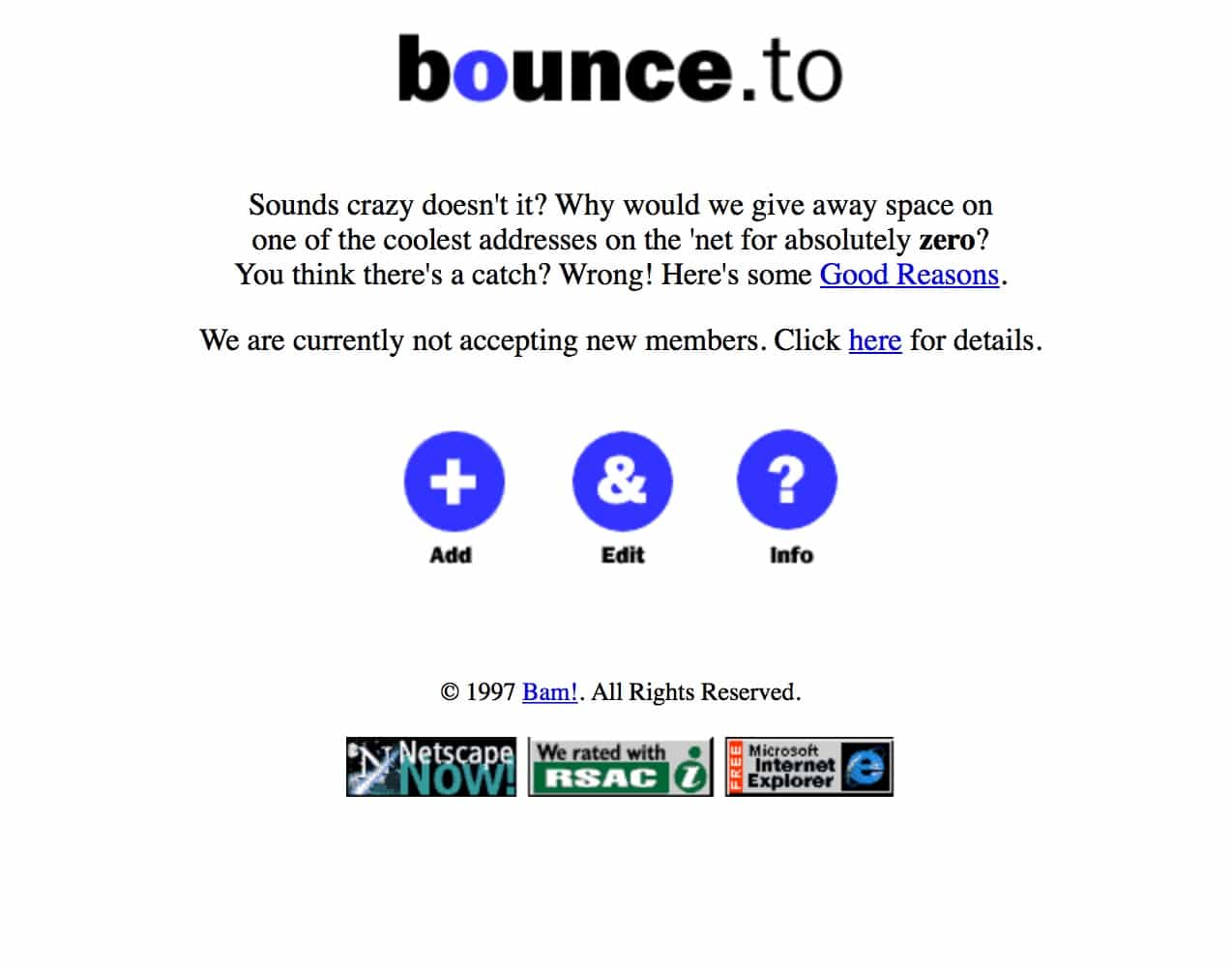 A few days later, when we had ironed out any remaining issues, I sent out a press release to the journalists on my target list, and posted a unique post on various groups (avoiding cross posting, which was frowned upon).
The response was good. I got a number of media mentions across the globe, which helped drive traffic. An old copy of the site I found had these quotes on the media page;
Here are just some of them:
"…a very neat service…" "…Incredibly Useful Site."
– Yahoo! Internet Life (12/6/97)
"…now almost anyone can have the presence they want."
– Sydney Morning Herald (12/2/97)
"…a snappy domain name to those needing them."
– West Australian Newspaper (12/2/97)
"A brand new service on the internet making sure your URL gets shorter and shorter…"
– Online Computing Radio (10/19/97)
"A great way to solve long web address problems…" "… bounce.to is destined to become an extremely popular service."
– Biz Tips Magazine (October 1997)
"Bounce.to claims ad success…"
– Australian Net Guide (9/22/97)
"…a unique service that guarantees memorable web addresses."
– West Australian Newspaper (9/2/97)
As well as these positive media articles, my posts on various usenet groups had generated a number of responses, which I replied to, that helped create further interest.
By the end of the first month, I had around 2,000 unique users, not bad for a very small internet population, compared to now.
It took me an hour a day to reply to emails, look for further promotional opportunities and find other growth avenues.
The great thing about this service, was people started using their bounce.to addresses on their email signatures, business cards, etc which drove more traffic, and in turn, found more users.
After about six months of operation, in which time I drew a modest amount of income which covered the domain name, the original development costs, hosting, etc, I was approached by a US company who expressed interest in taking a stake in the business.
After a number of emails back and forth and a few late night phone calls, I sold the domain name, Perl files, database and user base of around 40,000 users, for US$5,000 – around ten times the investment I had put in less than a year earlier.
That was around a years income for the service at that stage, and given my interest in the business was waning, I felt I got a great deal.
Takeaways from my experience
Take risks and create something. My first tech startup didn't cost me more than $500 to get up and running.
Reach out to the media. If you spend time and find the right people to reach out to, you will find success. No blanket emails to everyone though.
Announce your new business in discussion groups, etc if they allow it. Ensure you are adding value, replying to comments and aren't coming across spammy though.
Look for a way to include a viral element. This service had the brandname in every users web address, meaning my users were promoting it for me.
Write about it twenty years later – it'll be interesting what similarities you can find between your first tech startup and where you've progressed two decades later.