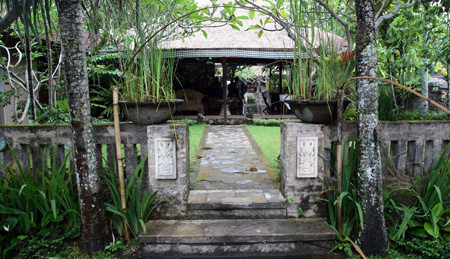 Recently, Meredith and I spent a few beautiful days in Bali, Indonesia. I did have all intention to write a mini travelogue and publish it here, but in the weeks we've been back, it's been crazily busy at work and in life.
We arrived late Monday evening, sans children (who had Meredith's mother staying with them). My brother Charlie happened to be in town, so along with his friend, Rani, they were kind enough to pick us up from Ngurah Rai Airport, and in the middle of the night, we made our way to Nyuh Kuning, a small and quiet village just south of Ubud town center.
Our chosen hotel, Saren Indah, is tucked away on the southern end of the Monkey Forest, near the top end of Jalan Nyuh Bulan.
Replete with beautiful gardens, an inviting swimming pool, outdoor Bale style restaurant (open 7.30am – 10.30pm), and two story buildings housing the sixteen rooms, the place was fantastic. Either side of the property were rice fields, and although we stayed in one of the Garden rooms (lower floor), we're assuming the views from upstairs would be great.
We ate and shopped, practised our Bahasa, and rode our two hired motorbikes, for the next four days, before sadly heading back to the airport early Saturday morning for the trip home. If you are considering a few days of downtime, you couldn't go wrong with booking one of the many cheap flights to Bali, and relaxing in Ubud for a few days.
I've uploaded two videos that I took from the handlebars of the bike, using a loaned GoPro camera, designed for the purpose. This video shows a quick ride around Nyuh Kuning, and this video shows our ride from Jalan Hanoman in Ubud, over to Goa Gajah (Elephant Cave).
Terima kasih (thank you) for reading this post; I trust you'll enjoy the videos!
Image: Photo of the reception Bale at Saren Indah Hotel, Ubud.